Thomas Jhou, Ph.D.
Laboratory at the Medical University of South Carolina (MUSC)
How to find us:
Location:

Phone/email:

Medical University of South Carolina

70 President St.

Drug Discovery Bldg, DD221

Charleston, SC 29425

843-876-2290 (office)

843-876-2268 (lab phone)

843-792-4423 (fax)
What we do:
Our lab studies addiction and depression using behavioral, electrophysiological, optogenetic, and anatomic methods. Many of our projects focus on a midbrain region that my colleagues and I identified in three papers published in 2005 and 2009. This region, the rostromedial tegmental nucleus (RMTg), provides a major inhibitory influence on dopamine neurons, and plays major roles in motivated behavior. Although we originally identified the RMTg in rats, it has since been identified in rhesus monkeys as well, and is likely to be conserved across many species. It is represented by the red dots and symbols in the rat brain cartoon below: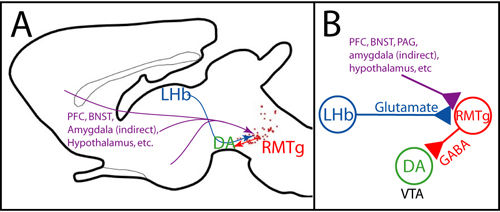 Anatomic studies had noted distinct properties of the RMTg as far back as the 1970s, but its links to dopamine and motivated behavior were not identified until our more recent work (Jhou 2005, Jhou et al., 2009). We are currently studying how disorders of motivation, such as addiction and depression, are modulated by the RMTg and its numerous afferents, which arise from a large number of brain regions also implicated in motivated behavior. These regions include the lateral habenula (LHb), extended amygdala (bed nucleus of the stria terminalis), frontal cortex, and periaqueductal gray.
Previous work:
Prior to 2004, I worked on sleep and circadian rhythms with Dr. Clifford Saper at Harvard Medical School. I used a now defunct spelling of my last name "Chou".
From 2005-2010 I worked with Drs. Howard Fields at UCSF, Peter Holland at Johns Hopkins University, and Satoshi Ikemoto at NIDA.
Who we are:
Current members: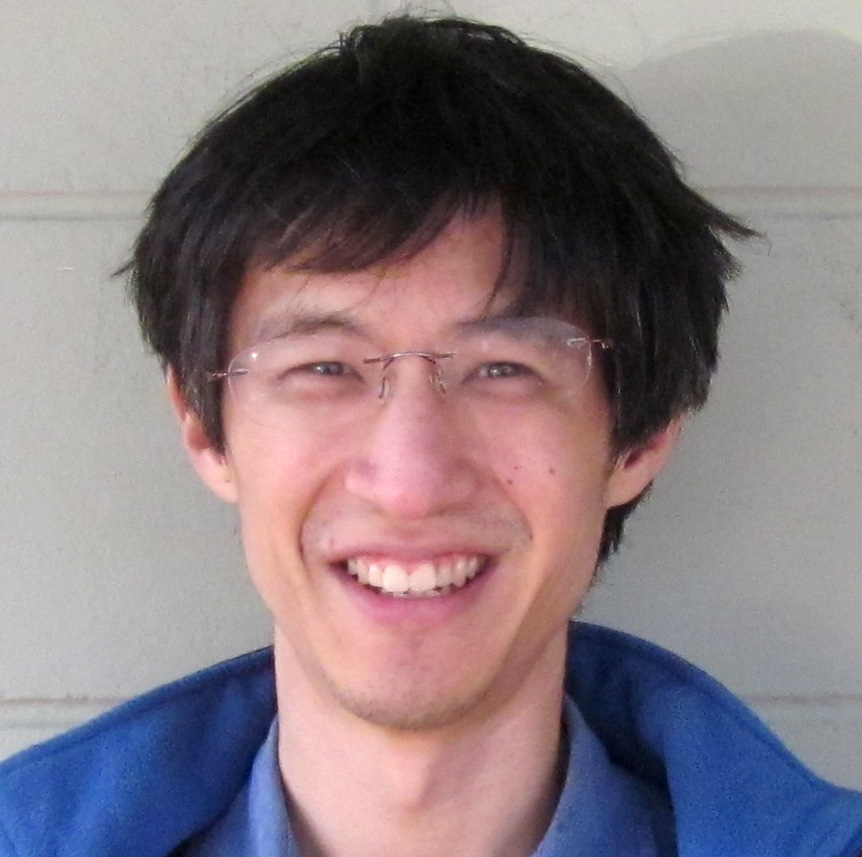 Thomas Jhou, PI
(No photo yet)
Peter J. Vento, PhD, Post-doctoral fellow
Email: vento "at" musc.edu
(No photo yet)
Rachel Smith, PhD, Post-doctoral fellow
Email: smithrac "at" musc.edu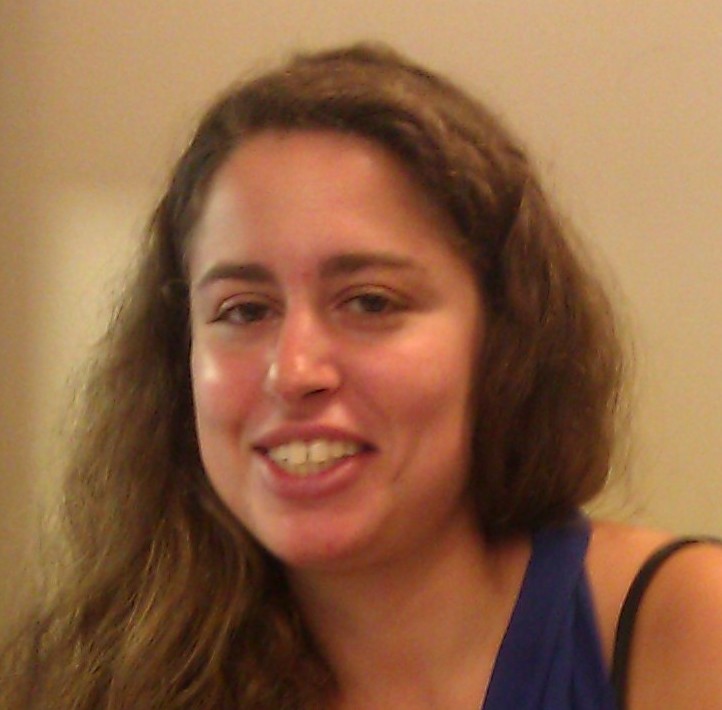 Courtney Rowley (rowle "at" musc.edu), Research Specialist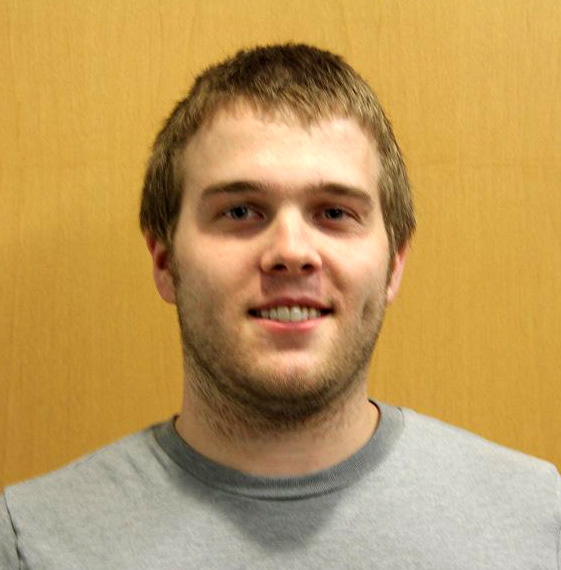 Nathan Burnham (burnhamn "at" musc.edu), Research Specialist
Also:
Zack Gerber, College of Charleston Intern
Alex Jessmore, College of Charleston Intern
Past members:
Ellen McGlinchey (graduate rotation student)
John Yang
Pengpeng Zhang
Hiring:
We are currently seeking new personnel at all levels, including postdoctoral, graduate student, and technician level positions.
For more information, email me at : jhou@musc.edu, or find us at the phone numbers atop this page.
Selected recent publications:
Jhou, T, "Neural mechanisms of freezing and passive aversive behaviors", J. Comp. Neurol. Dec. 2005, 493(1):111-4.
Lu, J, Jhou, TC, Saper, CB, "Identification of Wake-Active Dopaminergic Neurons in the Ventral Periaqueductal Gray Matter", J. Neurosci., January 4, 2006; 26(1): 193 - 202.
Phillips, PEM, Walton, ME, Jhou, TC, "Calculating Utility: Preclinical evidence for cost-benefit analysis by mesolimbic dopamine", Psychopharmacology, 2007; 191(3):483-95.
Greco MA, Fuller P, Jhou TC, Martin-Schild S, Zadina JE, Hu Z, Shiromani P, Lu J. Opioidergic projections to sleep-active neurons in the ventrolateral preoptic nucleus. Brain Res. 2008.
Jhou TC, Geisler S, Marinelli M, DeGarmo BA, Zahm DS, "The rostromedial tegmental nucleus: a mesopontine structure targeted by the lateral habenula that projects to the ventral tegmental area and substantia nigra compacta". J. Comp. Neurology, 513(6):566-96, 2009.
Jhou, TC, Fields, HL, Baxter, MG, Saper, CB, Holland PC, "The rostromedial tegmental nucleus (RMTg), a major GABAergic afferent to midbrain dopamine neurons, encodes aversive stimuli and promotes behavioral inhibition". Neuron,61(5):786-800, 2009.
Hong S, Jhou TC, Smith M, Saleem KS, Hikosaka, O, "Negative reward signals from the lateral habenula to dopamine neurons are mediated by rostromedial tegmental nucleus in primates", J. Neurosci. 31(32):11457-71, 2011.
Jhou TC, Xu SP, Lee MR, Gallen CL, Ikemoto S., Mapping of reinforcing and analgesic effects of the mu opioid agonist Endomorphin-1 in the ventral midbrain of the rat. Psychopharmacology, 2012
Jhou TC, Good CH, Rowley CS, Xu SP, Wang H, Burnham NW, Hoffman AF, Lupica CR, Ikemoto S, "Cocaine drives aversive conditioning via delayed activation of dopamine-responsive habenular and midbrain pathways. J. Neurosci., 33(17):7501-12.
Copyright 2013, Thomas Jhou